This is it, September the 6th, departure to the Democratic People's Republic of Korea! :-)
As the traffic in Beijing is really a disaster in the morning rush hour (Complete gridlock, actually…), I went to the office of Koryo tours by subway… There would be a bus departing from the office at 8:45, so we had to be there at 8:30… I took subway lines 5, 1 and 10 to go there. The subway was a madhouse too at this time, certainly with my luggage, but at least things moved… :-)
At the office there were many more people than only the 24 people of the cycling tour, as there were apparently three tours leaving for the DPRK today, including a 16 day "mega-tour"… The people of the cycling tour had their own bus though, and we eventually left perfectly on time… :-)
Check-in at the airport went relatively smooth, but it was much more exciting as usual, as it's not every day that you board a plane to Pyongyang! ;-) I asked a window seat and got it, number 11F. We filled in the departure cards from China, and went through the security checks, which were not more tight than what would normally be the case. It all went pretty quick too, as I arrived at the gate almost an hour before boarding would start. (Scheduled for 11:30) So I went to one of those machines where you can get a username and a password to use the wireless internet of the airport. In order to get one, you should put your passport in the machine. Your data is read then, and you get a ticket with the necessary info to log in. It all went good, but the signal was rather weak at gate 16, which was at one extremity of the airport. So I couldn't do too much… Furthermore, our plane was not yet there, so was looking out for it all the time! :-) Air Koryo can't buy planes from Boeing or Airbus, because of the trade boycott by the Western countries, so it has Russian planes. They have recently bought two new planes from Russia for the route to Beijing (Tupolev Tu-204), but sometimes they still use one of their older planes, type Ilyushin 62M, a plane from the sixties… :-)
Eventually, an Air Koryo plane showed up in the distance! :-) It was an older one, Ilyushin 62M number P-881!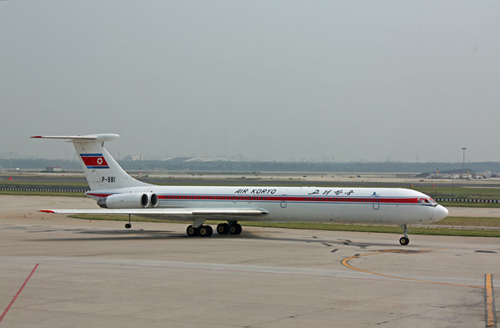 A bit later, it came to our gate, so it would indeed be this plane… :-)
I missed a great photo opportunity by the way, when a plane of the South Korean Airlines passed by our North Korean plane… :-) (I just saw it when it was passing, too late to take my camera…) I wonder how often these planes come so close to each other… :-)
Then, it was time for boarding… I can't say I felt at ease upon boarding this old aircraft, given the fact that it was so old, but on the other hand I could imagine that the people of the DPRK would see the safety of these planes that are used on international connections as a kind of national pride, and so would take good care of them… And indeed, when boarding, the plane looked well maintained… :-) The stewardesses greeted us upon entering, and were very friendly, although at the same time a bit stricter to the passengers than I was used to on other airlines… ("The iron hand in the silk glove"…) The plane had something very nostalgic about it, too, although the leg space was unfortunately very limited. I couldn't put my backpack in the shelves above the seats as it was too big, so I placed it under the seat. But because of this I couldn't move my legs at all…
Luckily, the flight would take less than two hours in total…
The stewardess asked me whether I would like a copy of the "Pyongyang Times" to read. I gladly accepted the offer, as it makes for a great souvenir of course, but we were told that the people in the DPRK would get very upset if we would fold the newspaper over a picture of the Dear Leader… We should always leave the picture on the cover straight… This made me a bit uncomfortable, as I didn't want to keep it on my lap during the whole flight, but I eventually managed to fold it in three, and put it in the back of the seat in front of me… :-)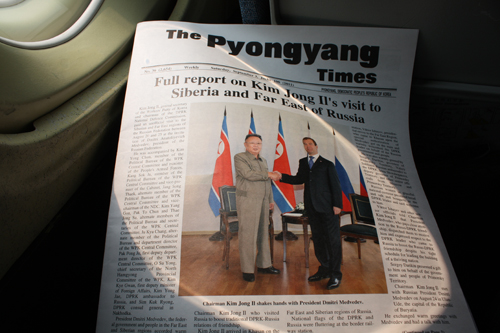 The engines were started then. They were louder than I was used to, and a bit higher pitched… A very special experience… :-) We moved to the runway, and after waiting for some domestic Chinese flights taking off, we were cleared to go! Flight JS222 from Beijing to Pyongyang departed! :-D
The plane took off swiftly, and flew rather stable! :-) It was hazy again on that day in Beijing, so soon after departing we couldn't see the ground anymore… About 10 minutes later we left the haze though, and I could see the remarkable sight of the Beijing haze from the sky again… :-/ It always makes me sad, seeing this beige, grayish mist hanging above China's capital… :-( You could see the grey mist, and above that the crisp, blue sky! :-0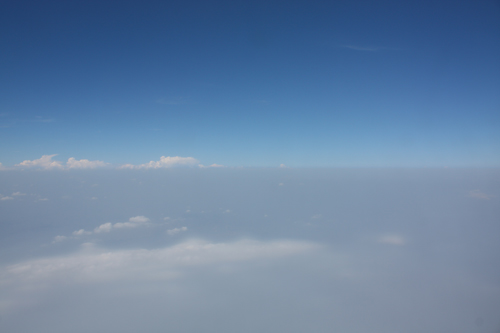 About an hour later, we started our descend towards "FNJ", or Pyongyang Sunan Airport… :-) I felt very excited about this, entering such a unique country! :-) The landscape looked very nice, and the weather was very clear, not a single cloud in sight! The plane flew lower and lower, but to my surprise there were no buildings around, only countryside and nature? :-0 We touched down on the runway, and the passengers spontaneously started to give an applause for the pilotes! :-)
The runway was indeed in the middle of the countryside! Except for the fences and the soldiers guarding them, nothing indicated that this was an important airport! The runway was very long, too, and it took quite some time to reach the actual airport…
And then we made another turn again, and I could finally see the airport building, with a portrait of a smiling Kim Il-Sung on top of it! :-)
Our stewardesses wished us a warm welcome in the DPRK! :-)
We exited the aircraft directly, and walked to the airport building ourselves. And gave is a feeling I will never forget! The light was so bright, the air so crisp, and everything so tidy and clean! :-0 All the Koreans were dressed so neat, and the soldiers were wearing their typical dark green uniform… :-) It looked like a movie set! :-0 Unbelievable! :-0 I regret not having taken a lot of pictures, but given the fact that there are a lot of restrictions on photography in the DPRK, and that airports are often considered as "sensitive" zones, I decided not to… Apparently, it wouldn't have been a problem, but I didn't know that at that time, and I was already busy enough looking around! :-0
We entered the new terminal (The old one, which has the portrait of Kim Il-Sung on top of it, was in renovation…), and immediately went through immigration. It all went pretty smooth, and shortly afterwards we could already pick up our luggage from the turntable… The terminal was just one rectangular hall, so those turntables were located immediately after the immigration desks. While waiting for my luggage, there was a power cut for a few minutes… I had read about those, but didn't expect it to happen so soon already… :-0 (Eventually this would only happen twice during my ten days in the country though, now and on one other occasion, in our hotel in the mountains near Mt.Paekdu…) A few minutes later the electricity came back, and so we picked up our luggage… :-)
The next stop was customs… This would be a more complicated matter, as there are a lot of restrictions on what you can bring in the country… So I expected them to go through all our bags, and check everything that was in it. For me, this would be an ever bigger problem, as I had brought my Lowepro Vertex 200 AW backpack, full of camera's and lenses, etc… I expected the customs officials to freak out upon seeing all that, and was already prepared to spend a long time there… But to my surprise he only looked at my two big camera's (A Canon EOS 450D with battery grip and a Mamiya 645 AFD), smiled, and told me to continue… :-) And that was it, I was now fully approved to enter the DPRK!
I walked to the exit, where our guides were waiting for us… :-) I met Kang and Ju already, two young guys who looked very cheery and happy to meet us… :-) Normally, every tour group gets two guides, but we would get four, as we were the very first cycling tour ever, and they were planning to split the group up in two, a slower one and a faster one. Each group would then get a guide in front and in the back. But as we wouldn't go cycling yet, only three guides appeared… Kim was the third one to arrive.
We boarded an ex-Japanese bus, and met our friendly driver! :-) This guy was really a very skilled driver, as we would later find out… :-) We set off to Pyongyang city, which would be a drive of a little more than half an hour… :-) And this drive also turned out to be almost magical! Koreans on their bicycles, dressed in suits… Some women wearing the traditional, colorful dresses, and everything spotlessly clean! Not a single paper on the ground, not a single splatter of graffiti, not even publicity signs! Only some mosaics with portraits of the Great Leader or the Dear Leader, or with Socialist propaganda praising the benefits of hard work or against US imperialism… :-) And almost no cars on the roads! In this fantastically clear light, it made me think about how ugly the "West" has become these days… Publicity, graffiti and rubbish everywhere, noise and pollution… :-/ In this way, I must say that the DPRK turned out to be a real delight! :-) It certainly looked like eye-candy! :-D Unfortunately, we were not allowed to take pictures from the bus, otherwise I would have taken hundreds I think… :-)
Normally, we would have gone to the hotel directly, but we could attend a football match between the DPRK and Tajikistan, if we wanted… I normally don't like football, but almost everyone else went, and it's not every day that you can attend an international football match in the DPRK of course… :-) The atmosphere in the stadium was very special by the way, with the Koreans shouting loudly every time the Korean players had the ball… :-) Eventually the crowd went absolutely bananas when the Koreans made one goal against Tajikistan! :-D It stayed 1/0 by the way, and there were many breaks after players got kicked or hit by players from the opposite team, so I got a bit bored by the end, and this way I remembered again why I don't like football… :-/ Then again, I don't regret attending this game… :-) But only because it was in the DPRK… ;-)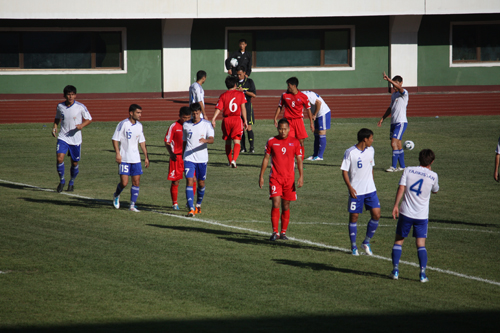 After the match ended, our bus was apparently gone, and so eventually we walked all the way to the hotel (About 10 minutes…), something they don't often let you do, actually… It was mostly nice to see the Koreans around us… :-) Certainly the kids were great, waiving to us and giggling… :-)
The hotel was the Yanggakdo hotel in Pyongyang. ( http://en.wikipedia.org/wiki/Yanggakdo_Hotel ) A big and relatively luxurious hotel that especially caters to the foreigner visitors. There were a lot of foreigners there by the way, certainly because of the Taekwondo competition! My room was on the 38th floor (There are 47 floors…), which I shared with a German guy from Frankfurt called Gil, as I hadn't paid for a single room supplement (That was quite expensive, actually…), but I didn't mind, as Gil turned out to be a nice guy, and sometimes very funny too… :-)
We had a kind of buffet dinner in the evening, which was good, but nothing special… Apparently, the Koreans alter their food for foreigners by making it milder, which is really a pity… Anyhow, I was very tired, so I decided to go to bed immediately after dinner, and I actually fell asleep immediately… :-)